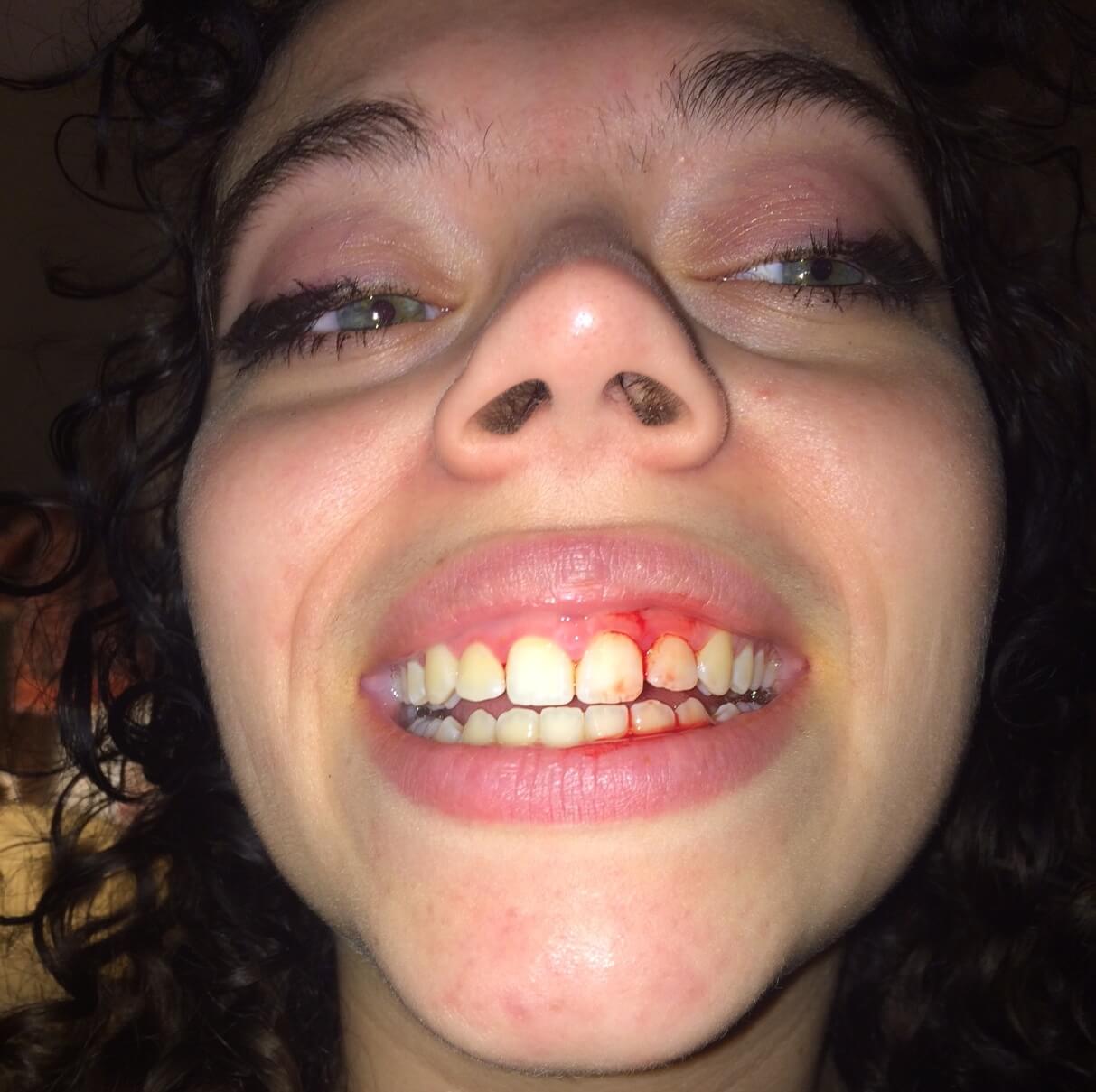 Recently, some pretty cool poets visited our city of Asheville, NC from Baltimore, Knoxville and Oakland. We convinced them to stop by the studio on their way out of town and record some stuff. Here is number five in the mysterious Maya Martinez. Listen and read…
*
A sweaty girl runs up to her friend sitting down at a picnic table across from a boy.
The sweaty girl is out of breath, her friend slowly turns her head to acknowledge her.
Peering at her sweaty body. The sweaty girl trying to catch her breath, she is grinning.
"How about we play pretend" the blonde girl with pig tails suggest. She is not the sweaty girl
but the friend on the bench. She is a cool girl, her house has only white carpet and her mom
is always bleaching her teeth.
She asks the sweaty girl to be a chair. The sweaty girl gets on all fours and flexes
her back to be hard. Her knees pressing into the mulch, and the palms of her hands splintering.
"You are a good chair" the blonde girl giggles, "You're so study and comfy" she wiggles her hips
The boy standing across from them grins too. "Sit on her and see how comfy she is" the girl shouts to the boy
The boy follows and sits on the sweaty girls back "Mmm this chair is so relaxing" he laughs.
The sweaty girl tries to laugh too, being careful of her breathing as to not be a bad chair.
The boy gets off of her and she stands up, brushing the mulch from her knees. Her face is red.
She lets her back relax. The blonde girl grabs her by the wrist and brings her to a secluded area of
the play ground. Away from the boy. She hold her wrist firmly and ask the sweaty girl
"Do you love me?" the girl answers "yes"
"Say that you love me"
"I love you"
"Now kiss me on my cheek" her small finger points to the fat on her face
The girl who was the chair leans in with wet lips and kisses her white cheek
"I love you" she repeats
*
Oprah Winfrey singles me out of the crowd and asks me to approach the stage. She says "you it has always been you" and I think, at least Oprah thinks I'm special. I sit on her couch in front of the audience. I look out and see a bunch of smiling faces. She asks me questions about my powerful journey. She asks what my life is like now, after everything. I say to her, and the audience of smiling moms, "Everything is much better than it ever was. I wake up every morning and thank the lord for my life. I have three beautiful children and a loving husband. The sex never gets old and my kids are the light of my life." Oprah asks me how I know I wanted this. Oprah asks me about when I first thought about it. "Well in high school my friend got pregnant, and all I could think was wow now she gets to have something that will love her forever. She gets to have someone who will always need her. That is when I knew I wanted to be like this." Oprah tells me she is glad I said that. Oprah says "Well for all your hard work and devotion, we wanted to give you a present!", music starts playing and gets progressively louder. I start to tear up as Oprah shouts "WE GOT YOU A BRAND NEW CAAAAAAAARRRRRRRRRR". The women in the crowd cheer for me, everyone is applauding this. Oprah tells me that I am such a good mother, a role model to parents everywhere, she tells me I work so hard and that I deserved this. I hug Oprah, my wet face staining her tasteful sweater. Thank you so much Oprah Winfrey, God bless you.
*
I cast adam sandler as my yeast infection in the play
he reads a monologue
he is a method actor, being my sweaty cunt
through out the movie he realizes his flaws and is there for me. He makes me waffles and helps me study for my big test. He comes to my baseball game and my recital and my high school graduation.
it is ok Adam Sandler I know you're a busy guy always wearing off brand golf attire
a mold of adam sandler made of packaged oysters
adam sandler is casted as the sea cucumber always shitting when he eats
nothing can stay in him
adam sandler uses the emoji wearing sunglasses and texts me
"you would like to think you're a Carrie but really you're a Charlotte"
*
Tina Fey pours salt onto the slugs and whispers maniacally "hehehe". I ask Tina why she does this, and she responds "For fun, I like to watch the slugs squirm". I never thought of Tina Fey as a sadist, but here she is watching the tiny things die by her hand.
Tina Fey and I are decidedly bored. There isn't much to do in central Florida. We decide to go to the outlet mall. Tina drives us there and smacks her gum loudly. I think "what a slob Tina Fey is". She is my friend, and I love her, but more importantly I want Tina to get me into trouble. I want Tina Fey to get me into a K hole and leave me to die while she gets finger fucked in the next room. I want Tina Fey to take a polaroid of me peaking on her floor and call it "art".
When we get to the outdoor outlet mall Tina insist on getting those giant salty pretzels. I think "couldn't hurt". We both are wearing flip flops and the sound they make slapping between our feet and the floor lets everyone know we are open for business. At the mall we see a kid who goes to our school. He is tall and lanky. His face is covered in pimples, but he is cute enough. I think he is gentle enough to fuck, Tina speaks out "Hey come here!" to the boy. He takes out his head phones and walks over. He looks like he probably listens to the Red Hot Chili Peppers and thinks Fight Club is the most inspiring and honest movie ever. I think "I'm young enough for this to be forgivable". Tina Fey watches him come over, she still is smacking that loud ass gum of hers. She whispers something into his ear as I stand by. She grabs my hand and leads me into the near by restroom. The stalls are baby blue and the boy follows us in.We all crowd into the handicap stall. Tina tells me to turn around and face the wall. Tina Fey pulls down my panties from under my skirt and starts fingering me. The boy stands in the corner of the stall watching us. He doesn't say anything. I am getting sweaty and I start moaning. Tina keeps playing with my clit and lets out a giggle. I think about Tina's nails in me, and when the last time she got them done might be. I try to remember if she has acrylics on right now, I try to feel them from the inside. I make a note to ask Tina what is under her nails when she done. Maybe pink slugs live in me and she is getting them out. Maybe she will put salt on those slugs too.
I can smell my own sweat when I cum. Tina remarks "Finally."
*
We are on the highway and it is 2 am and the air is cold. I ask if that is weed, but he responds "No". I respond, "So you like foreal vape".
*
She likes Bacardi
She likes to party
What if slugs are sadist?
She likes Bacardi
She likes to party
Imagine one slug whipping another slug
and laughing
She likes Bacardi
She likes to party
the slug fucks the other slug
in the ass
using butter as lube
She likes Bacardi
She likes to party
*
Natalie Portman didn't mean to get Chlamydia, but she did. I did too, but I wanted to get it. It was part of my art practice at the time. Getting infested and then getting clean. The process of being open and wide. She didn't mean to get it. She kept saying that. We sat across from each other at the planned parenthood, and she smelled bad, so everyone knew she had chlamydia. People can be too keen sometimes. Natalie was embarrassed because she always looks very clean. Like her mother just combed her hair. Always wearing pink like she didn't know she could be dirty.
I envy girls who have hair that falls next to their face attractively. Like they didn't try. "Sorority hair" as Elliott would call it. Looks like she stole it from a pretty horse. I felt bad for Natalie though. She didn't deserve to get chlamydia, no one deserves that. No matter how beautiful the horse hair they stole. I wanted to eat her chlamydia away. I wanted to get on my knees and really just get in there with my mouth. Suck all the infestation out. I imagined that maybe after I would look and see a small cartoon clam. Like all purple and maybe pink on the inside. None of this happened though. We just sat in planned parenthood anxiously jiggling our knees. Getting a head ache from the stale air.
All I am saying is, when Natalie Portman cries, I cry.
*
"I am actually taking Biotin so that my nipple hair
grows long and thick"
I say to myself as I shave my nipple hairs in the shower
So that customers don't see my nipple hairs
When I shove my tits in their face
I tweet about a fly trying to escape out the window
It has been doing this for what seems like hours now
It isn't smart enough to figure out that it won't get out
The worst thing you can do when you're high
is go through your ex's tagged instagram photos
and forget you had a pizza in the oven, until the fire alarm goes off
*
Do minions feel pain?
Could a minion be a masochist?
Minion in Furs
The story of M(inion)
In the Minion movie a scene plays out where
the minions are supposed to be getting tortured
Stretched, beaten, whipped
But all they do is giggle
*
I serve Natalie Portman a slice of the cake I had made earlier that day. It is strawberry flavored with purple icing and red words that say Dead Angel Cry. It looks like blood and I think about the last time Natalie had a period. She likes to wears pads and cotton underwear. Natalie eats the cake and I watch her putting fork fulls of it into her mouth. I think about mouth sores. I ask Natalie if under those perfect lips, are mouth sores. She says "No, why are you asking me that?" and I tell her I've been thinking a lot about the mucus that lies in our skin and that swells up. What if people kissed by putting their faces side by side and rubbing cheeks?
Natalie finishes her piece of cake and turns to me, she says "Maya I really think you need to start growing up, you can't just text people when you're drunk saying "You don't care about me" and expect them to rush over to you, that isn' t how the world works Maya." and "Are you going to be a stripper forever Maya? I could see you working at a non-profit or something, but when are you going to grow up?" I know Natalie means well by this. I sit on the floor of her one room. She has wooden floors. "Well Natalie I think I have a cyst forming between my ear lobe and skull". Natalie just keeps staring at me angrily. I don't know what to do here, how to make her happy. I offer her more cake, she looks at me and says "You aren't always going to be able to focus on the poetics of things Maya, you never see 40 year olds taking crying selfies Maya". I pull down my lower lip and show Natalie a row of mouth sores. I ask her to smell them for me. I ask her to maybe take a picture of them for me so I can inspect them. She tells me "soon it won't be so cute for you to act like a child" and walks into the other room.
*
I turn to the man and say
"if vegans are so helpful then who
is picking their tomatoes?"
i have got sweaty chicken legs
i have got some sweaty bodies
at texas road house alyssa said i had
rats hair and a flat chest
she slaps me when i tell her she will
never leave this place
she slaps me and a cookie cake
says "we'll miss you"
i think when i come back in
a second life i would
like to be the french tip nails
on a frigid bitch
i would like to fuck you in the ass
with my french tips
you're so ugly that repeatedly pick a scab where an ingrown hair
used to be. It bleeds and a little bit of puss comes out. It looks like you.
Compare my body to a speckled egg and I'll say "same"
______
Catch the rest of our Writers On Tour from the past month. Damn fine bunch.