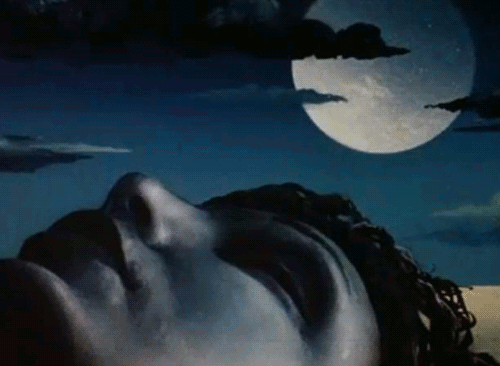 (audio recorded by the author, Sean Kilpatrick)
God plucked up every wolf, so the moon wouldn't go deaf, and, holding them all aloft, clapped both hands together. Emboldened by the nightly silence that followed, a giant came along and pinched the tides through a straw. Tilting his chin, smirking at heaven in cruel solidarity, he bellowed: I impose the first tariff as proof against love. Remaining forest critters, seeing their surpluses so expended, shared a hairball about the future, but animals did not invent a word for goodbye, and even though the giant, who was suspiciously a god's height, minus the beard, had scarfed away the rain in its entirety, they emulated their bully by entering politics, voting on who might save them, and dabbled in printed money so they could assemble a wolf's skeleton from the remains that fell out of the sky.
The wolf had enough flies flown through his ribcage to immediately demand a wife. The animals promised him love, if he could return their drinking supply, but they were dependent on diplomacies, and made sure to include a clause for reburial in the wolf's contract. He led them to a castle whose presence stung the universe, tracking the giant's fallen prey by sniffing the terrible keisters of their ghosts. The ghosts would not heel and he flossed with their ectoplasm and cussed out brand new obituaries. If his gums were intact, the wolf may have been able to taste the dew of the giant's water vats through the drawbridge. The animals slunk behind this rickety version of a wolf with timidity as he lifted his boney leg and cleaved the blockade in twain.
The giant ran outside and categorically stomped hares from existence. The wolf chortled: I never went behind a bush to mate. The giant swayed a congealment of birds, crinkling them through his fingers. The wolf guffawed: I never parted one cloud with a happy thought. The giant put an end to snakes, to burrowing clades, to pests: Oh, the dirt finally gets its say. Soon the wolf and the giant were knee deep in genocide, standing on the calories of the worst one, so they gambled for refreshment. Whosoever can imbibe the dimensions of the giant's vats the fastest wins. What was drank drizzled below the container and sunk into the earth. Still no plant wanted to grow again because that liquid had passed through a wolf. On the contrary, the giant gorged his bounty, winning at the obliterated expense of his bladder. Hexing the possibility of hell as the bottom part of him exploded, expressing remorse for any surviving sentience, the giant constructed his own casket and shut himself within. But the dirt would not accept these tremendous bones, nor the bones of the wolf already proffered, as the planet by now was nothing more than a dune where their bodies stood alone, unloved forever.